On Saturday, the ITI choir met officially for the first time of the 2012-13 academic year to test voices, learn a Taize hymn, and get to know each other—obviously, in ITI style, over a few snacks.  With a whopping 21-member start, and the group already coming together well, the year looks promising.
Directed by one of our seminarians and co-organized by another student, the choir serves as an enjoyable break from the heavy rhythm of studies at the ITI.  It also offers a beautiful opportunity to share gifts of music as a means of aiding in the beauty of the Liturgy at the common Thursday Masses, as well as on special feast days, like the upcoming celebration of the Little Flower, St. Therese de Lisieux, on October 1st. These liturgies are offered as the high point of the community and spiritual life at the ITI, and thus the choir plays an important role in accomplishing the unity of purpose and prayerful life for which we strive as an institute.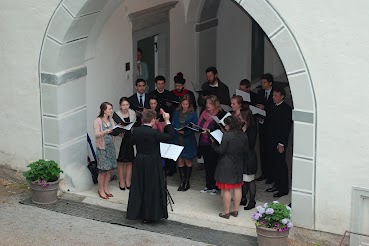 Last year, although starting from scratch with members having varied musical experience, and having limited rehearsal time due to the busy student schedule, the choir was able to successfully present both movements of Palestrina's Sicut cervus at the 2012 graduation ceremonies in June.  This song is a treasured favourite at the ITI, as its Latin lyrics are the words from the psalm which the ITI has had as its motto since its inception: "As the deer longs for running streams, so my soul thirsts, for you, O God.." (Psalm 42 [41]).
We are looking forward to another year to offer thanksgiving and sing praise to the Lord, for all He has done and continues to do through the ITI.
Never heard Palestrina's exquisite piece?  Here's a beautiful recording of it for you:
[youtube=http://www.youtube.com/watch?v=Nsw1kdLqfec]